Orthotics
Kevin Kelly Pharmacy, Ireland's No. 1 Sports Pharmacy Specializing in Orthotics and Sports Injuries.
We are based in Carlow Town and can supply customers in Carlow and Countrywide, from Donegal to Dublin and Cork!
We at Kevin Kelly Pharmacy have specialized in Foot-Care and Sports Injuries for over 25 years!
Having suffered from Shin-Splints, Heel Pain, Plantar Fasciitis and Back Pain when playing Rugby, I sought the advice of a Podiatrist, she recommended that I wear an Orthotic in my Rugby boots. This simple and inexpensive product gave me huge relief from pain and soon became the most important part of my kit!
I began wearing Orthotics in my Rugby boots, work shoes, dress shoes, walking boots and even ski boots!
This positive experience inspired me to develop a keen interest in Foot Pain, Back Pain and Sports Injuries in general and has become a huge part of my business here at Kevin Kelly Pharmacy.
Through an On-Line Diploma Course and predominantly through Self-Learning and experience we have built a successful business.
We source the best and most suitable Orthotic for each individual customer and now supply over 40 different types of Orthotics.
We provide Orthotics for Sports, Work, Golf, Dance, Walking, Children and Teenagers.
The type of Orthotic suitable for you is decided following a personal assessment,
● Depending on your Foot type; Flat feet or High arch?
● Depending on your lifestyle; are you on your feet all day? Active or Sedentary?
● Most importantly depending on Gait Analysis, and if you have associated Hip, Knee or Back pain?
We perform Gait Analysis by observing customer walking, running, sprinting, and jogging.
Gait Analysis is important because it allows us to create a complete picture of each individual and allows us to customize an Orthotic specifically for you, which will allow you to return to a pain free walk, round of golf, 5k run and most importantly will allow you to be free of Heel or Foot Pain when at work.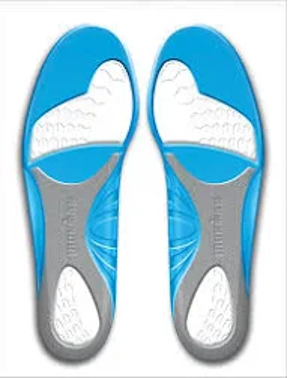 Cost of Orthotics
Having performed a Gait Analysis and considering your lifestyle, whether the Orthotic is required for work, a daily walk or for an athlete we will recommend and customize an Orthotic specifically for you and the cost will range from:
€25 euro for everyday wear
€49.50 euro for walking or golf
€85 euro for Athletes, sports wear
History of Footcare and Orthotics
Leonardo Da Vinci described the human foot as 'A masterpiece of engineering and a work of art.'
There are 26 bones, 30 joints and over 100 muscles, tendons, and ligaments in each foot, each of these, work together to provide support balance and mobility.
The human foot is an amazing piece of engineering, which operates using 'Windlass Mechanism', a term used in sailing meaning to haul or lift something. Very appropriate, given that our feet haul and lift us, all day every day for our entire life!
We owe it to our feet to show them a little love!
The demand on our feet has risen exponentially in recent times, we are walking, running, training, and standing more than ever. We take on average 7000-8000 steps per day, equivalent to 4 trips around the World in a lifetime, all supported by our feet!
Foot pain, Shin-Splints , Back and Hip Pain can hugely hinder and interfere with our busy lives and sporting ambitions and Doctors and Podiatrists recognize that anti-inflammatory and painkilling medication is a short-term solution, it is not the long-term answer to alleviate this pain.
Orthotics have been developed by Doctors, Physiotherapists and Orthopedic Surgeons in collaboration with Athletes, using the most up to date scientific modern materials and technology.
What does an Orthotic do?
Depending on your Foot Type a correctly fitted Orthotic will support the structure of the Foot and allow it to function correctly.
It will provide stability and balance.
A carefully chosen and fitted Orthotic in a supportive shoe can allow you to live a busy life, free of Foot Pain, Shin-Splints and associated Back Pain.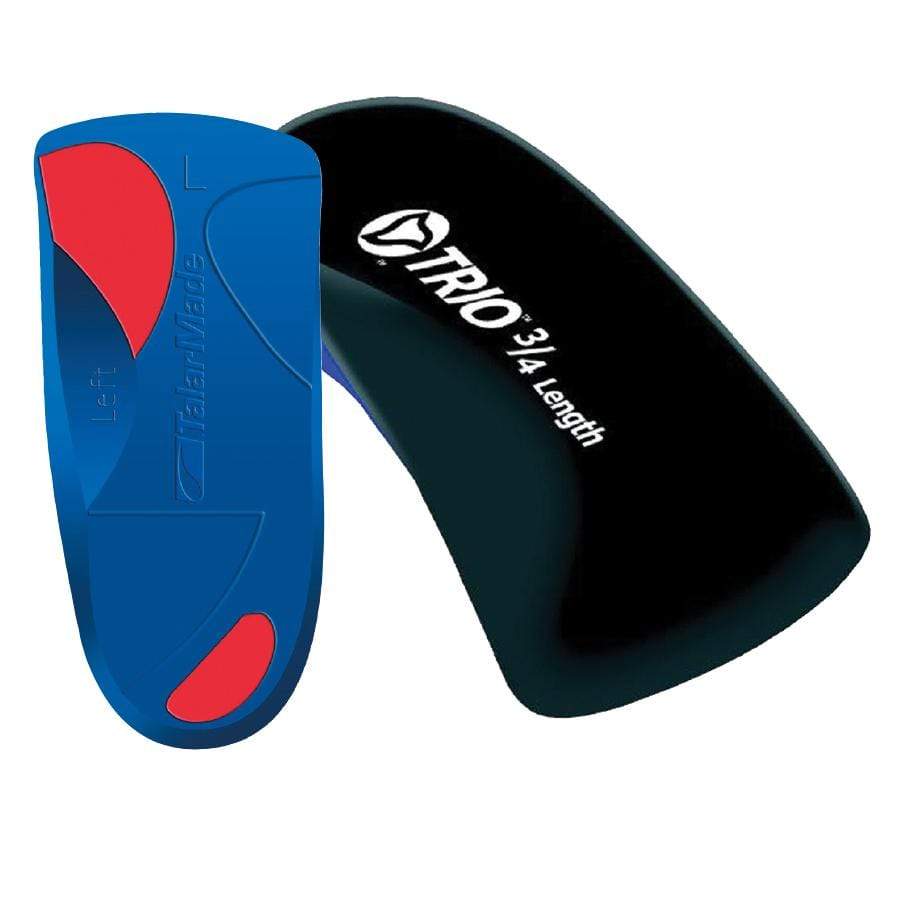 How do you know if you need an Orthotic?
Orthotics are very often recommended by Doctors, Physiotherapists and Orthopedic Surgeons for Heel Pain, Muscle Pain or Plantar Fasciitis.
● Do you suffer from very sore feet after getting out of bed, maybe needing to walk on your heels?
● Are your feet sore when you sit down to take a break and stand up again?
● Do you have heel pain or pain in your big toe, muscle ache in arches?
● Do you have excessive wear on the outside of your shoe?
● Do you feel unstable when walking or do you stumble?
● Do you have Ankle Pain, Knee Pain, Hip Pain?
If you answer YES to any of these questions you should consider a consultation with us at Kevin Kelly Pharmacy where we will carry out Gait Analysis and consider your lifestyle, we can then assess whether an Orthotic would suit you and recommend and fit a customized Orthotic for your own particular need.
Foot Types
There are over sixteen-foot types, these range from a Very High Arch Foot: Cavus Foot to Very Flat Foot: Pes Plantus.
People who have Very High Arches are prone to developing Plantar Fasciitis, Foot and Ankle Instability, Hammer Toes, Claw Toes, Lower Back Pain, Sacroiliac Pain, excessive wear, and torn Cartilage, Severe Callouses and Knee and Hip Pain which could result in requiring a Knee or Hip Replacement.
People with Mild to Moderate Pes Plantus or Flat feet can present with Heel Pain, Mortons Neuroma, Low Back Pain, Plantar Fasciitis, Shin-Splint Pain, Hip Pain, Knee Pain, which if left untreated can result in the need for a Hip or Knee Replacement.
POSSIBLE CLINICAL SYMPTOMS DEPENDING ON THE FOOT TYPE :
VERY HIGH ARCH FEET / SEVERE PES CAVUS
UNSTABLE ANKLE / ANKLE SPRAINS
EXECESSIVE SUPINATION / LATERALISATION
CAW TOES / HAMMER TOES
HEEL SPUR /HEEL PAIN
PLANTAR FACISITIS
LOWER BACK PAIN
SACRO ILLAC PAIN
KNEE PAIN / HIP PAIN
CARTILAGE TEARS / EXCESSIVE WEAR
TENDONITIS HAMSTRINGS / ILTIO BAND PAIN
SEVERE CALLUSES
CHARACTERISTIC FOOTWEAR IE EXCESSIVE WEARING ON OUTSIDE HEEL OF SHOE
KNEE REPLACEMENT
HIP REPLACEMENT
HIGH ARCHES / MILD PES PANUS
PRONATES THROUGH MID STANCES IE CLIFF JUMPING [ KEVIN ]
MORTONS NEUROMAS
SACRO IILLAC PAIN
HEEL SPUR / HEEL PAIN
PLANTAR FACISITIS
CHARACTERISTIC FOOT WEAR EXCESSIVE WEAR ON INSIDE HEEL
KNEE REPLACEMENT
HIP REPLACMENT.
MODERATE PES PANUS
HIP PAIN
LOWER BACK PAIN
PLANTAR FASCILITIS / HEEL PAIN / HEEL SPUR
ILIOTIBIAL BAND SYNDROME
METETARSAL PAIN LOSS OF FAT PADS AND ASSOCIATED PAIN
DORSAL BUNIONS
POSTERIOR TIBIAL TENDONITIS
FLAT FOOT / ABUCTOVARUS FOREFOOT
PLANTAR FASCILTIS / HEEL PAIN /HEEL SPUR / FOOT PAIN
SHIN SLPINTS
KNEE PAIN
TAILOR'S BUNION
SERVERS DISEASE
OSGOOD SCHLATTER DISEASE
BACK PAIN
HIP PAIN
KNEE PAIN
VERY FLAT FOOT / SEVERE PES PLANOVALGUS
PLANTAR FACISTIS / HEEL PAIN /HEEL SPUR / FOOT PAIN
TARSAL TUNNEL SYNDROME
ACHILLIES TENDOITISIS
POSTERIOR TIBIAL DYSFUNCTION
BACK PAIN / BULGING DISC
HIP PAIN/ KNEE PAIN
SEVERE BUNIONS
CALLUSES
LEG LENGTH DISCREPANCY [ L.L.D ]
RETROCALCANEAL HEEL PAIN
EXCESSIVE WEAR OF CARTILAGE
KNEE REPACEMENT
HIP REPLACEMENT
What will an Orthotic do for you?
A correctly selected and fitted Orthotic will support the Foot Structure, whether you have extremely Flat Feet or Extremely High Arches or if you are somewhere in-between and it will allow the Foot to function.
It will support the Arches which are essential for stability and balance, this should allow you to live your life, do your day's work and enjoy your leisure time free from Foot Pain, Ankle Pain, Heel Pain, Low Back Pain, Heel-Splint
Pain and most importantly could prevent a Knee or Hip Replacement in the future.
Contact Us
If your Doctor or Physiotherapist has recommended an Orthotic as treatment, or if you suffer from Plantar Fasciitis, Heel Pain, Foot Pain, Shin-Splints, Lower Back Pain, Knee Pain, Hip Pain or Unstable Ankles contact us at Kevin Kelly Pharmacy and we will organize a consultation for you .
We stock many different types of Orthotics and will recommend the Orthotic that is most suited to your specific need and lifestyle.
We supply Orthotics Countrywide, so whether you are from Dublin, Donegal, or Cork, get in touch today!